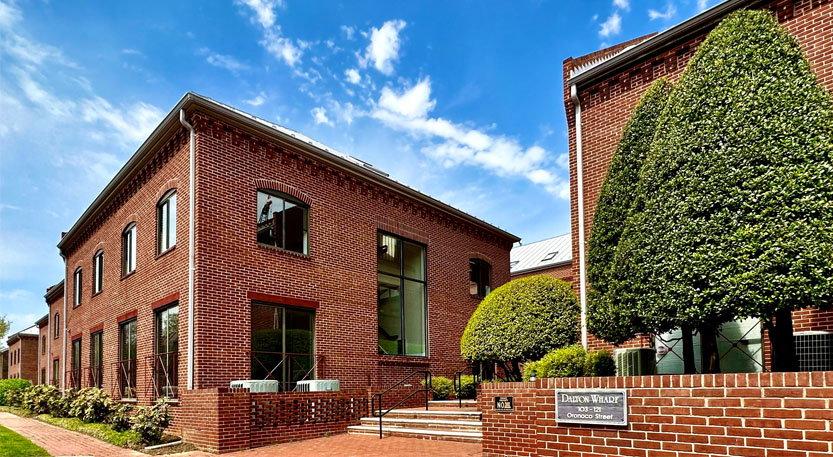 Roundhouse Square Counseling Center was established in 1979. Dr. David Charney decided to expand his Old Town, Alexandria, solo private practice into a small group specializing in anxiety disorders called The Phobia Treatment Center.
In Northern Virginia at that time there were no specialized programs for treating agoraphobia, phobias, panic attacks and other anxiety disorders. Dr. Charney found that the approaches he customarily used, psychodynamic therapy combined with medications, were just not fully up to the task of treating these anxiety conditions successfully. The new approach used Cognitive-Behavioral techniques, which involved not limiting the treatment to just in-the-office appointments.
Our staff actually went out into the real world to help desensitize patients, in the actual situations, and treat what they feared most, whether it was tall buildings, bridges, driving the beltway, or whatever. We called this Contextual Therapy, and it provided a breakthrough treatment for hundreds of patients.
This therapy model became the signature "eclectic" approach for Roundhouse: Creatively combining and integrating the use of different therapeutic modalities, customized for each individual patient. The synergy of combining talk therapy, individually or in couples, families or groups, along with medications as needed, and cognitive-behavioral therapy, all worked better than sticking to just one all-purpose therapy.
A Roundhouse patient might meet with one of our experienced psychiatric social workers alone, or might see the psychiatrist for all of the work needed.
Being open to new things, at Roundhouse we added new specializations over time, to help people requiring help that was not easily available in our region, and frankly, to keep things interesting for us.
We added treatment for Mood Disorders, Couples and Family Therapy, Eating Disorders, Obsessive-Compulsive Disorder, Adult Children of Alcoholics and Adult Attention Deficit Disorder. Anxiety sub-specialties included help for Fear of Flying and Fear of Public Speaking. We also used Medical Hypnosis as needed.
Roundhouse values staying on the cutting edge.
We have added a new Physician Assistant to our Staff, who can prescribe psychiatric medications at a lower fee.
Our Roundhouse team consists of a psychiatrist, psychiatric social workers, physician assistants and administrative staff. We have worked together closely for four decades and enjoy warm and collaborative relationships that work well for our clientele.
We moved into our first office building in Old Town, Alexandria in 1981, located on a site where once there existed a railroad roundhouse. That's how we got our name, Roundhouse Square Counseling Center. We've moved but kept our name. The railroad metaphor inspired our new tag line: "Getting you back on the right track."
Fees & Insurance
Our fees range from $175 to $350 for an appointment depending on which professional you see and for how long.
We do not have a sliding scale.
Our Payment Policy is to expect payment at the time of the visit. If you have insurance, you can apply for reimbursement as your insurance allows and we will be glad help you with that process.
As for insurance, we are always "out-of-network," meaning that we have no contracts with insurance companies and thus are not "preferred providers." Nevertheless, our services are almost always reimbursable. You can discuss your specific situation with Dawn.
We have had to opt out of Medicare. We can still treat you but you cannot file with Medicare. Our services would have to be self-pay.
Cancelled Appointments
When we schedule an appointment for you, we set aside that block of time for you exclusively. It's not like a typical doctor's waiting room where if you don't show up, there are people lined up waiting to take your place. To make our practice viable, we generally require 2 days notice for a cancellation; otherwise, you will be charged for a missed appointment.
Office Hours
We are open from 8:30 AM until 7:00 PM or sometimes later, depending on circumstances.
Each of our therapists keeps their own schedule, so appointment times can be negotiated directly.